Store Hours:
Monday - Saturday: 10:00am - 5:00pm
Sunday: 1:00pm - 4:00pm

Connect with us Quilter's Stash - Windsor, CO on Facebook!

April and May Bunny Hint: Go into the catalog, then into NEW kits. The bunny is in Judy Niemeyer's new Paradise in Bloom.

Paradise in Bloom
Judy Niemeyer's Technique of the Month series in 2015!
We have this beautiful quilt kitted in 4 different colorways. Be sure to reserve yours today!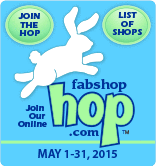 Web Site Design & Programming by
Key to the Web,LLC ©